Filter by Date
Filter by Date
SUN
MON
TUE
WED
THU
FRI
SAT
All Shows in November 2020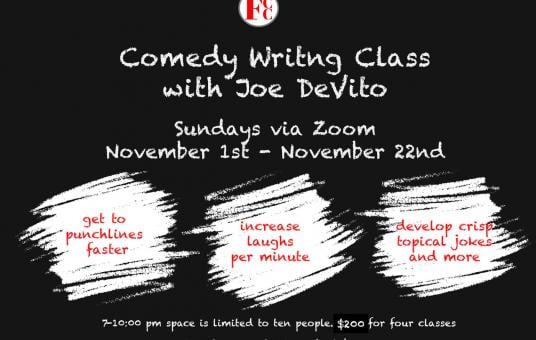 COMEDY WRITING CLASS"Get it in WRITING"Are you ready to get big, consistent laughs with an act that represents your unique point of view? It's easy with the writing techniques in this targeted, four-week class. You'll learn how to:- Turn observations and stories into stage-ready material- Get to the punchline faster using editing tips- Increase your laughs-per-minute with tags, asides, and word economy.- Develop crisp, topical jokes that work in front of a live audience and on social media. This class is perfect for comics, writers, and anyone who wants to express themselves with confidence and humor.Sundays 11/1, 11/8, 11/15 and 11/22 from 7-10pmEnrollment limited to 10 people.$200Joe DeVito has performed on The Late Late Show, Comedy Central and Last Comic Standing, and has made more than 150 TV appearances as a guest panelist. His special "First of All…" for Dry Bar Comedy has over 2 million views online.
BUY TICKETS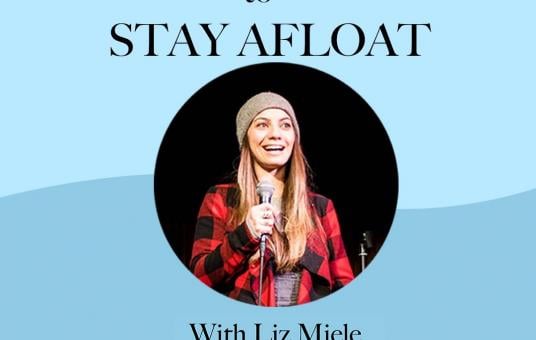 Join veteran comedian Liz Miele as she helps you navigate social media to help cultivate a following, get industry attention and make money now and when things open up. Learn best practices in utilizing Instagram, Twitter, Tiktok, Facebook, Youtube, Patreon and Mailchimp (or other mailing lists).About Liz--Liz Miele is a NYC comedian that has appeared on Comedy Central, FOX, AXS TV, Hulu and NPR's Wait Wait Don't Tell Me. She's been featured in The New Yorker, NY Times, Runner's World, Psychology Today and The Guardian. She has several viral videos on Youtube, Instagram and Tiktok including jokes "Feminist Sex Positions," "Dating Is Harder for Comedians," and "Fuck Finland" She regularly tours internationally and has three albums out on spotify and itunes including her most recent special, Self Help Me which is free on youtube. For more info visit her web site: www.lizmiele.com
BUY TICKETS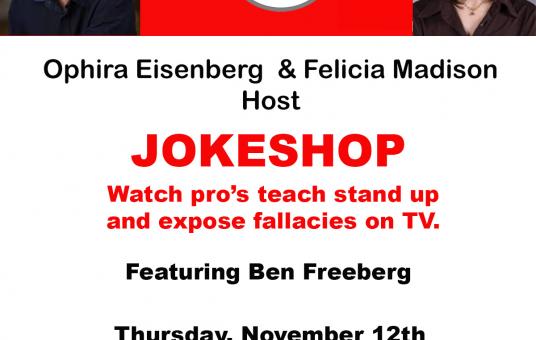 Joke Shop is a fun comedy show contest featuring top stand up comedians helping up and comers to hone their craft. Then some nights they turn their critique to stand up comedy shows to see how they are doing it all wrong. Join us with Karen Bergreen and Clayton Fletcher help fellow F Comedy Comedian Ben Freeberg with his stand up and also work out new jokes with Ophira and Felicia. Hosted monthly by Felicia Madison and Ophira Eisenberg..
BUY TICKETS